Daily Express 5 stars: "… a great book with an exciting denouement that will keep you gripped to the final page." – Paul Donnelley
23/09/2020
There is a long tradition of doctors turning their talents to fiction – Sir Arthur Conan Doyle, Anton Chekhov, Michael Crichton, Khaled Hosseini and Richard Gordon being among the most prominent. Now another name can be added to the list – Anne Pettigrew is a retired Greenock GP who has written a brilliant murder mystery.
https://www.express.co.uk/entertainment/books/1339137/Not-The-Deaths-Imagined-Anne-Pettigrew-local-GP-serial-killer
What it feels like to go from GP to Author – The Herald Magazine
14/09/2019
Retired Greenock GP turned author is up for a major award
26/08/2019
Dr Anne Pettigrew has been invited to join big names like First Minister Nicola Sturgeon and top crime writer Ian Rankin at Bloody Scotland to talk about her book 'Not a Life Imagined'.
Competition to meet Coatbridge author bizarrely won by woman with same name – The Daily Record
20/08/2019
Guest blog 'Advancing women- Opportunity and Respect'
24/07/2019
In this guest post author and former GP Anne Pettigrew follows the opportunities for autonomy experienced by the last four generations of women in her family. As she suggests 'We accepted the norm of chauvinism and #MeToo at work. This generation must not'.
Podcast: Scots Whay Hae
24/06/2019
Anne Pettigrew and Ringwood Publishing CEO Sandy Jamieson talk about Scottish publishing today and her journey. With Alistair Braidwood
Radio: Bookends on Radio Pulse98.4
23/06/2019
Anne Pettigrew interviewed on publishing a novel at 68, the alien Google-free world of 60s students and a woman's life in medicine. Her it at www.pulseonair.co.uk or https://soundcloud.com
Clyde Life Issue 48
June 2019
'Ambition, Entitlement and Ill-judged sex!' Review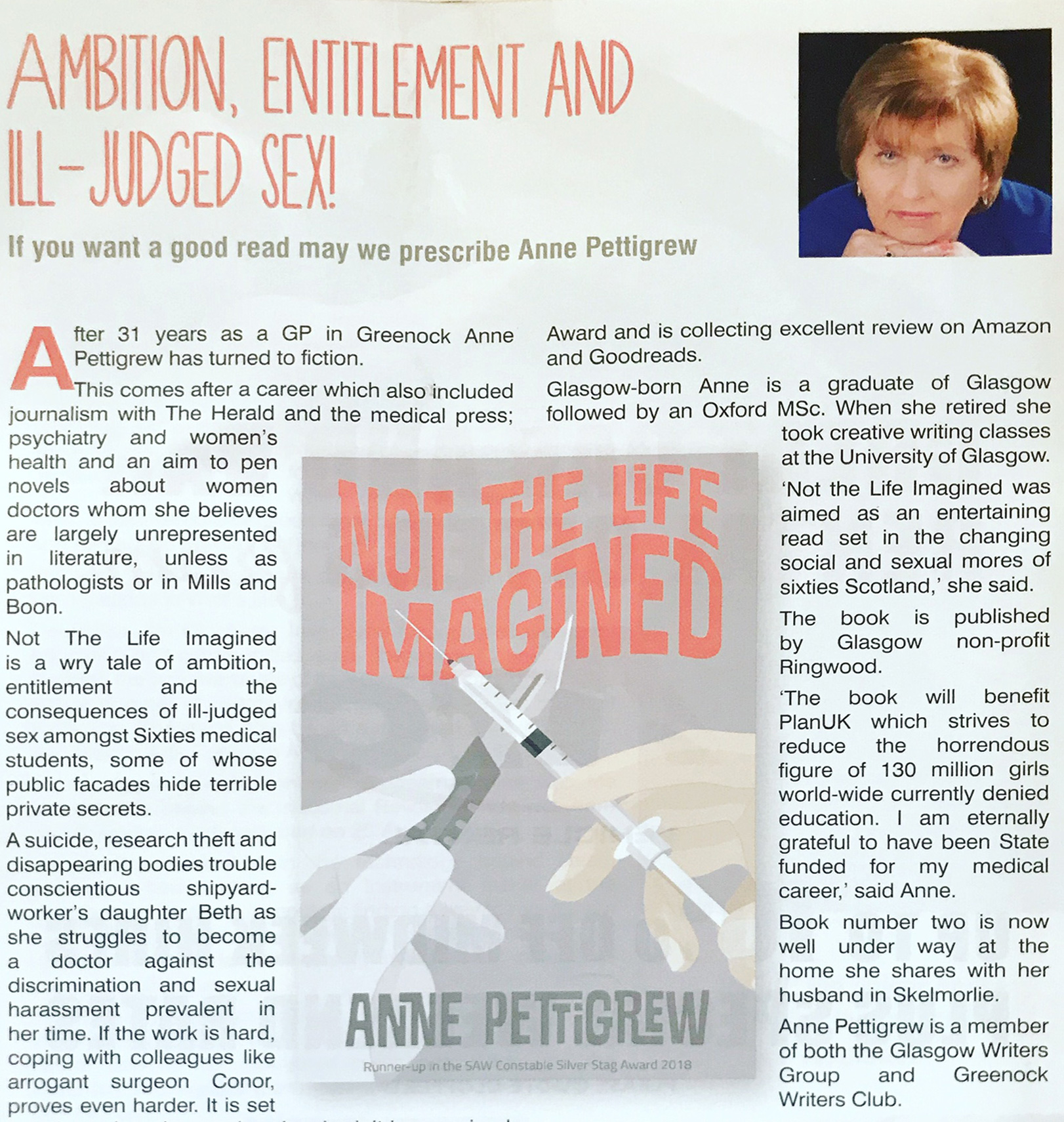 Largs & Millport Weekly News
20/02/2019
'Female struggle charted in GPs New Book' Article
Greenock Telegraph
19/02/2019
'A Book launch for former GP's first novel' Article
Greenock Telegraph
23/12/2019
'Retired GP writes novel set in the sixties' Article
Greenock Telegraph
14/12/2018
'Unleashing the wild side of medicine.' Article